Catalog of Modular Oil Refinery
Capacity

(BPD)

Power

(Kw/d)

Fabrication Period

(month)

Area

(Acre)

Skid Number

Weight

(Ton)

MR10

1000

150

5

1

5

120

MR30

3000

200

5

2

7

160

MR50

5000

275

6

2

8

200

MR100

10000

350

6

3

11

375
EPC Scope of Work for Modular Oil Refinery
EPC Scope of Work

No.

Item




By PCC

By End-user

1

Feasibility Study

Engineering




√

2

Basic Design

√




3

Detail Design

√




4

Budgeted Deliverables

√




5

local government approval and supervision




√

6

Purchase Requisitions

√




7

Parsed MTO

Procurement

√




8

Purchase Order

√




9

Transportation & Logistics

√




10

Release to Construction

√




11

Contracts

√




12

General Const.Plan

Construction

√




13

Civil work




√

14

Piping

√




15

System Turn-over

√




16

Start-up & Commissioning

√




17

Performance Run

√




18

Turn-Over to end-user

√







OSBL & ISBL Scope of Work










No.

Item




By PCC

By End-user

1

10000 BPD CDU+VDU

Inside Battery Limits

√




2

Tank Farm

Outside Battery Limits




√

3

Water Supply and Drainage System




√

4

Power Supply and Telecommunication System

√




5

System Pipelines

√




6

Central Control Room




√

7

Wharf and Berth




√

8

Vehicle Load-Unload Facility

√




9

Flare System

√



Process Flow Diagram of Modular Oil Refinery
Take one of Nigeria crude oil with API Gravity 36.25 and mercaptan sulfur 1.3ppm for example.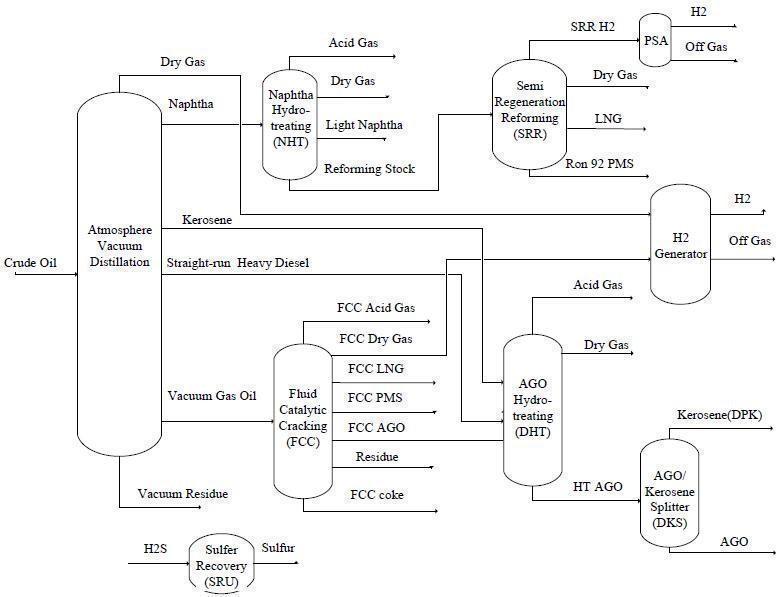 Process Philosophy of Modular Oil Refinery
Feedstock will be separated into naphtha, kerosene, straight-run heavy diesel, atmospheric residue oil by ADU. Naphtha from ADU is sent to NHT unit, in which reforming stock is main product. Reforming stock is rectified by Semi Regeneration Reforming (SRR). PMS and LNG are sent to respective tanks as products. And hydrogen can be regenerated by PSA.
Atmospheric residue oil is sent to vacuum distillation unit (VDU), vacuum gas oil can be produced. Then it is sent to FCC. The FCC dry gas is sent to Hydrogen Generator with dry gas from ADU. FCC AGO together with kerosene and diesel from ADU are sent to DHT unit. HT AGO will be produced and sent to AGO/Kerosene splitter where DPK and AGO will be produced. DPK and AGO will be sent to respective tanks as products.
The sulfur will go into the dry gas, LPG, gasoline and FCC fume and so on. And there is sour waste water produced in the processing. The sour gas and sour waste water should be purified to meet the standard of environmental protection. The stripped sour waste water will be used as injection water of the electric desalting. The stripped sour gas will be burnt and changed into SO2, then discharged to the atmosphere.