Application of Metal Structured Packing
1. Widely used in basic chemical column;
2. Fine chemical filed like ethyl benzene / styrene, fatty acids processing plant;
3. Petrochemical field, used in oil refinery towers and gas processing plant like vacuum distillation tower, absorption tower, stripper, and natural gas dehydration tower.
Advantage of Metal Structured Packing
1. Widely variable geometrical shape and different surface structures.
2. High flux and small resistance, make high distillation efficiency.
3. Low pressure drop, which leads to reduce energy consumption largely
4. Large flexibility, and scale effect is not obvious.
5. Customized for each type of packing and requirement.
Technical data of Metal Structured Packing
Theoretical plate

Surface area

Void fraction

Pressure drop

Fv(max)

Nts/m

m²/m³

m³/ m³

Pa/m

m/s kg/ m²

PY-M125X

0.8~1

125

0.987

140

3.5

PY-M125Y

1~1.5

125

0.987

200

3

PY-M250X

1.6~2

250

0.975

180

3.1

PY-M250Y

2~3

250

0.975

230

2.6

PY-M350X

2.3~3

350

0.965

220

2.5

PY-M350Y

3~4

350

0.965

280

2.2

PY-M500X

3~4

500

0.957

250

2.3

PY-M500Y

4~5

500

0.957

300

2
1. Angle of inclination of corrugation: 30°(X), 45°(Y)
2. Material: stainless steel for any standards, carbon steel, aluminum, titanium, wire mesh, further materials are available on request
3. Type: round, block
Surface treatment of Metal Structured Packing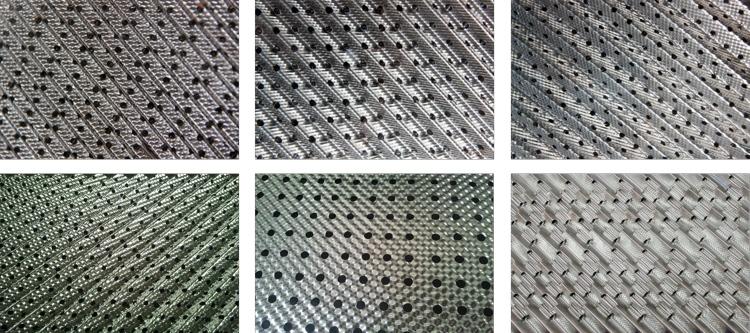 Common Package of Metal Structured Packing
| | | |
| --- | --- | --- |
| | | |
| wooden case | Pallet | pack it as demand |
MODEL OF STRUCTURED PACKING
Name
Model
Raw Material
Specification
Material
Metal Plate Structured Packing
PY-M64X(Y)
0.25
Stainless steel, Ti, Ni, Zr, etc.
0.20
PY-M125X(Y)
0.25
0.20
0.17
PY-M200X(Y)
0.20
0.17
0.15
PY-M250X(Y)
0.20
0.17
0.15
0.12
0.10
PY-M350X(Y)
0.17
0.15
0.12
0.10
PY-M500X(Y)
0.15
0.12
0.10
PY-M700X(Y)
0.12
0.10
PY-M1000X(Y)
0.10
Metal Wire Mesh Structured Packing
PY-W500X(Y)
0.15*60
PY-W700X(Y)
0.15*60
PY-W1000X(Y)
0.15*60
Plastic Plate Structured Packing
PY-P125X(Y)
0.80
PP, PE, RPP, PVC, CPVC, PVDF
1.00
PY-P200X(Y)
0.80
1.00
PY-P250X(Y)
0.80
1.00
PY-P350X(Y)
0.80
1.00
Air Separation Structured Packing
PY-K350X(Y)
0.18
Al
PY-K500X(Y)
0.15
0.18
PY-K550X(Y)
0.15
0.18
PY-K750X(Y)
0.15
0.18