Relationship between crude oil and the dollar in February
On Thursday, the price of black gold moved higher after the EIA weekly report showed an unexpected decline in crude oil inventories. Is this one bullish factor strong enough to push light crude higher in the following days? What did the buyers miss?
Yesterday, the Energy Information Administration reported that crude oil inventories declined by 1.6 million barrels in the week ended Feb. 16, beating expectations for a gain of around 1.8 million barrels. This first in four weeks decline in crude oil stocks in combination with a smaller than expected increase in gasoline inventories and drop in distillates supplies encouraged oil bulls to act. As a result, the price of black gold climbed to an intraday high slightly above $63, but did this increase change the short-term outlook for crude oil?
Crude Oil's Technical Picture
Let's take a look at the chart below :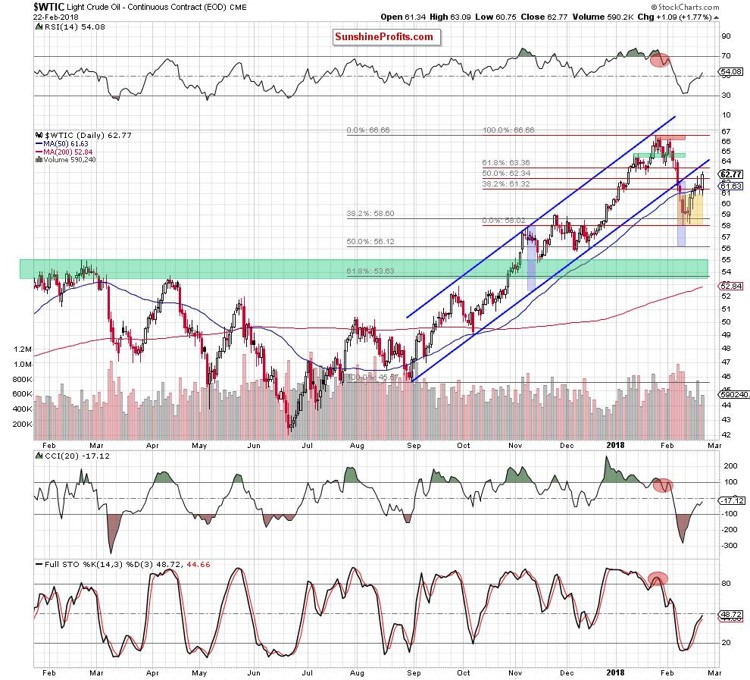 From today's point of view, we see that the previously-broken upper border of the yellow consollidation withstood the selling pressure once again, which encouraged oil bulls to act. Thanks to their charge, the price of crude oil broke above the Tuesday's peak and closed the day above the 50% Fibonacci retracement, which is a positive development.